WELCOME TO THE AUTHOR PAGE OF MATT HODGES
BEHIND GYM DOORS
Is a frank and authentic work-out for the mind, body and soul, and the perfect post-training companion for those who love, and hate, going to the gym.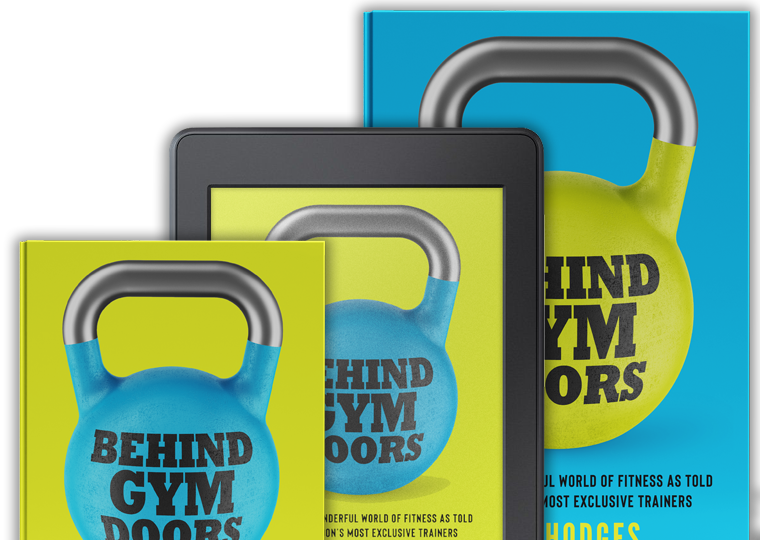 GET YOUR COPY
AVAILABLE ON KINDLE, PAPERBACK & HARDCOVER
Buy yours directly from Amazon, or if you'd like a signed copy then scroll down to the order section below.


Buy now
QUOTE FROM BEHIND GYM DOORS
" SO, HERE I AM, IN MY STUDIO WITH A RUSSIAN SUPERMODEL WHO'S PASSED OUT
ON THE FLOOR BECAUSE SHE THOUGHT IT WAS A GOOD IDEA TO WRAP HER LEGS IN CLING FILM IN ORDER TO LOSE WEIGHT.
OH, THANK YOU VERY MUCH GLOSSY MAGAZINES. THANK YOU VERY MUCH."
It was 2015, just a few months after I launched my first studio in Hampstead, North London, the city's wealthiest community, when an horrific trip to hospital took place.
Most of my clients booked me via my website, and this young Russian woman was one of my first major (rich) clients. She had sent me an enquiry and told me she was looking to get in shape before her son's parents' evening at school.
That's got to be a joke, right? I thought to myself, reading the enquiry. Well, no; keeping up an elite appearance is not uncommon in Hampstead, so I thought little of it at the time.
It wasn't long before the Russian woman – let's call her 'AlLEGra' – was walking through the studio entrance. Allegra instantly knocked me for six at how beautiful she was. Six-foot-tall, legs up to my chin and a face not too dissimilar to those that grace the catwalks of London Fashion Week. Androgynous, but beautifully so.
However, it wouldn't be long before I'd realise that she had the body of a Greek goddess but with the brain of a Greek salad. She was already in what we fitness professionals call 'shape', so I was interested to see how much further she wanted to push herself.
Within a few minutes of our first session, what struck me the most was that every time Allegra moved her legs, she sounded like a TV suffering from interference.
Crackle – crackle.
Every step.
Crackle – crackle.
Could it be that her pair of custom Nike Air's bubble had a puncture? Was she in fact a humanoid and these were her badly-oiled joints creaking? Or did she have a Quality Street fetish and was stashing empty wrappers in her drawers? As a fitness professional, I did my best to ignore the noise and concentrated on trying not to show my confusion as I evaluated her health and body movement.
THE STORY OF
MATT HODGES
Since 2005, Matt has been a personal trainer to the business elite, celebrities and professional atheletes with over 12,000 hours of one-to-one sessions. He's a qualified nutrition and health advisor, sports massage therapist, fitness model, and supplement ambassador...
The live, laugh, love taking the p*ss blog section...
Where do I start with one of my best friends in the industry? Do I start with his ability to navigate any situation with a level of audacity that most people could never pull off? Or what about the fact

There is a chapter in Behind Gym Doors where I detail one of the strangest things that has ever happened to me alongside a high-profile Russian client and his group of friends. It involved a lot of cigars, a well-trained

I run (at the time of writing) the most exclusive personal training facility in what is arguably one of the fitness capitals of the world. But what does exclusive look like? Well, coming onto my books you get access to my nutritionists,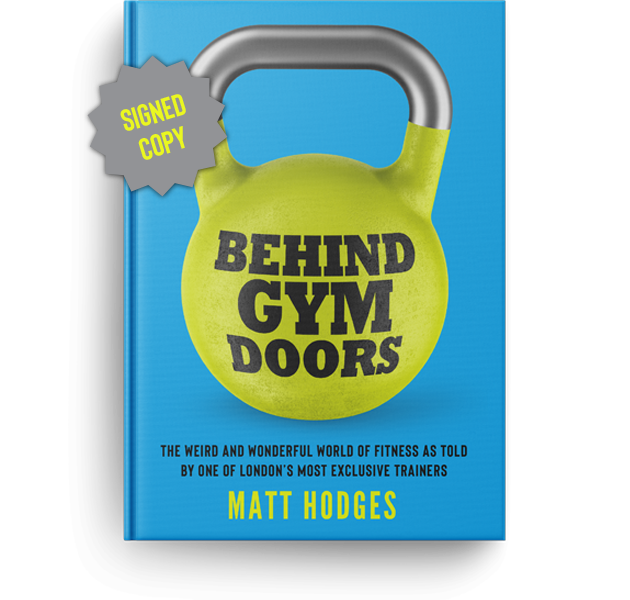 GET A SPECIAL COPY SIGNED
ORDER YOUR COPY HERE
Click on the order now button to be directed to the order page where you can pick up a signed copy of Behind Gym Doors and special free gift.